Skykomish River fishing is a summer fishery in June and July. We target hatchery chinook salmon & hatchery steelhead.
Skykomish River Specifics
Boat: 20' Willie Jet Sled: 2-4 people
Summer Salmon and Steelhead: June – July
Rate: $250 per person
Meet up location: Lewis St. Launch, 638 Lewis St. Monroe WA, 98272
Needed items for a Skykomish River trip
Sunglasses and any other solar protection
please bring plenty of water to stay hydrated.
For a complete list of recommended items to bring on fishing trips please see our "What To Bring" page.
---
The Skykomish River is located about 40 minutes north of Seattle. If you are visiting Seattle, this trip is a great choice.
This is a summer fishery and the weather is usually very nice. Typically June 1st is when the river opens for salmon and steelhead, we target both species into July.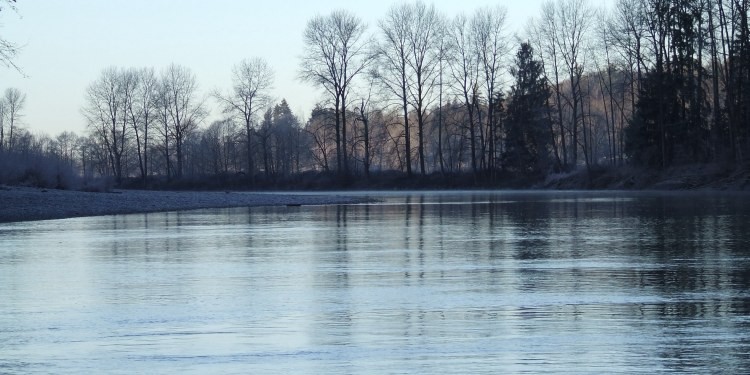 With summer being in full swing, the warm weather begins to melt the snow from the Cascade Mountains. The snow melt feeds this river system with mass amounts of cold water. The river level is able to hold at a higher flow than normal, and makes for easy passage for the incoming run of salmon and steelhead.
The higher water flow gives us the ability to use our Willie Boats Predator sled to target fish in all directions. When we locate a school of fish, we are able to re-work the water and maximize our opportunity. We are able to target salmon and steelhead at the same time by free-drifting cured eggs (roe) from the boat.
River Facts
This river drains out of the Cascade Mountains into the Puget Sound. The waters of the Skykomish River provide a remarkably beautiful fishing excursion where scenic views and opportunities for sightings of Bald Eagles and other local wildlife are abound.
The Skykomish River is a 29-mile-long river in the U.S. state of Washington which drains the west side of the Cascade Mountains in the southeast section of Snohomish County and the northeast corner of King County.
The river starts with the confluence of the North Fork Skykomish and South Fork Skykomish, approximately one mile west of Index and then it flows northwesterly towards Puget Sound. It is joined by the Sultan River and the Wallace River at Sultan. It meets the Snoqualmie River to form the Snohomish River at Monroe. The Snohomish River continues along the river valley eventually emptying into Port Gardner Bay on Possession Sound.
The main stem is 29 miles long. The length, including its headwater tributaries, South Fork Skykomish and Tye River, is 62 miles.
U.S. Highway 2 and the BNSF Railway are routed to follow the Skykomish River, South Fork Skykomish, and Tye River to Stevens Pass and the Cascade Tunnel.
Need a fishing license? Visit WDFW and purchase your license online.